News
Polycorp hoping to solve train-track cycling hazard with 'shallow flangeway'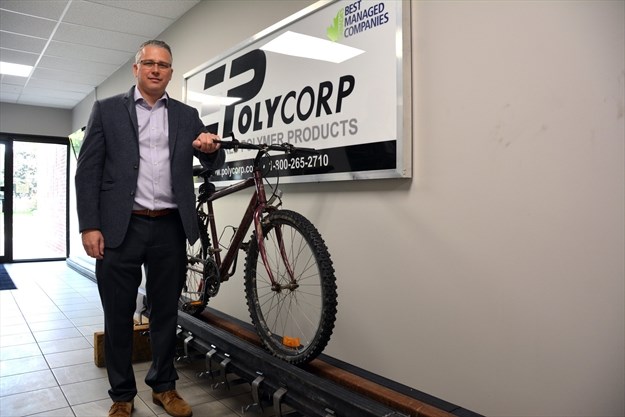 10/8/2019
Matt Bigger, Director of Polycorp's Rail Division engineered products group, said the company is on the verge of testing its new "shallow flangeway" with partners such as CN and Metrolinx, and he believes crossings like the one in uptown along the Spur Line Trail would be ideal for piloting the product that's intended to prevent the wheels of bicycles and other mobility devices from getting stuck in the tracks.

Read the article: https://www.kitchenerpost.ca/news-story/9634467-dangerous-spur-line-trail-can-be-fixed-with-new-technology-says-local-company
Polycorp at the 2019 SAG Conference Vancouver, BC September 22-26

9/16/2019
Join us in Vancouver from September 22 to 26, 2019 at the premier global event for Semi-Autogenous and High Pressure Grinding Technology.

The SAG Conference event brings together all those engaged in the field of autogenous, semi-autogenous and HPGR grinding in the industrial and metalliferous mineral industries. SAG 2019 conference theme (R)EVOLUTION reflects incremental and step change improvements in SAG and HPGR technology.

Polycorp's paper "Three-dimensional Discrete Element Simulation of Material Flow in the Pulp Lifters of Semi-Autogenous mill: two case studies" will be available at the SAG Poster Session.

Visit us at Booth #32 (The Kitsilano Room).
POLYCORP TECHNICAL SEMINAR

6/4/2019
Agenda:
Rubber Lining Manufacturing Technology
Rubber Compounding and Formulation
Quality Testing and Inspection
Material Testing and Chemical Compatibility
Plant Tour
Special Guest Speaker:

Ana Barbur, Akron Rubber Development Lab

Cost: Free

***Limited number of seats***

For further information or to secure your spot at the Seminar, please contact:

Tom Shewfelt, Protective Linings Division Manager tshewfelt@poly-corp.com
Polycorp Ltd. Platinum Club Winner of the 2019 Canada's Best Managed Companies Program
3/7/2019
Polycorp Ltd. is proud to have been recognized as a 2019 Platinum Club winner of Canada's Best Managed Companies.

Since having been selected as one of Canada's Best Managed Companies in 2011, Polycorp has requalified every year since, achieving the Platinum Club status in 2018 and requalifying in 2019.

Canada's Best Managed Companies is Canada's leading business awards program, recognizing excellence in private Canadian-owned companies. Each year hundreds of entrepreneurial companies undergo a rigorous application process, but only the best are awarded with this prestigious designation.

"This year's Best Managed winners are a testament to the success found when businesses invest in talent, innovate intentionally, and think long-term," said Lorrie King, Partner, Deloitte Private and Co-Leader, Canada's Best Managed Companies program.

"Companies that earn Platinum Club status, exemplify exceptional vision and leadership and a sustained commitment to growth and innovation," added Dino Medves, Senior Vice President and Head, CIBC Commercial Banking.

About Canada's Best Managed Companies

Canada's Best Managed Companies continues to be the mark of excellence for Canadian-owned and managed companies with revenues over $15 million. Every year since the launch of the program in 1993, hundreds of entrepreneurial companies have competed for this designation in a rigorous and independent process that evaluates their management skills and practices. The awards are granted on four levels: 1) Canada's Best Managed Companies new winner (one of the new winners selected each year); 2) Canada's Best Managed Companies winner (award recipients that have re-applied and successfully retained their Best Managed designation for two additional years, subject to annual operational and financial review); 3) Gold Standard winner (after three consecutive years of maintaining their Best Managed status, these winners have demonstrated their commitment to the program and successfully retained their award for 4-6 consecutive years); 4) Platinum Club members (winners that have maintained their Best Managed status for seven years or more). Program sponsors are Deloitte, CIBC, Canadian Business, Smith School of Business, and TMX Group. For further information, visit www.bestmanagedcompanies.ca.
Polycorp Ltd. Sponsors The Big Dig - Phoenix AZ

11/3/2018
The Polycorp Transportation Division was a sponsor of the 2018 American Cancer Society's "Big Dig" in the Phoenix Arizona desert, providing children with cancer the opportunity to use heavy earth moving equipment. The young cancer patients and their families put on their hard hats and experienced a day in the life of a construction worker.